It's time for the next crafty challenge, and the second SWAT sketch is provided by Jenessa Franco, it's a single page two photo layout:


Here is my interpretation of the sketch:
I chose to use these photos of my daughter on her 5th birthday- I love both of these photos of her and I wanted the photos to shine and the title to standout. I am loving a clusters that are a mixture of materials. The stickers, cards, and patterned papers are all by October Afternoon - from their 5 & Dime and Sidewalks collections.
You can join in the challenge by visiting the SWAT blog!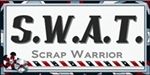 Thanks for coming by to take a look!